Armenian National Committee of America – PRESS RELEASE
Senate Unanimously Adopts Bill Blocking U.S. Military Aid to Azerbaijan

— Senator Gary Peters Leads Passage of S.3000, Removing the Biden Administration's Authority to Waive Section 907 in Fiscal Year 2024 & FY 2025

WASHINGTON, DC –  Michigan Senator Gary Peters (D-MI) led the unanimous U.S. Senate passage of the "Armenian Protection Act of 2023" (S.3000) which aims to block all U.S. military assistance to Azerbaijan by removing President Biden's authority to waive Section 907 of the FREEDOM Support Act for Fiscal Years 2024 and 2025.  The vote comes in response to mounting pressure from the Armenian National Committee of America (ANCA), Congressional allies, and a diverse coalition of pro-Armenian civil society advocates in the face of Azerbaijan's genocidal ethnic cleansing of Artsakh's Christian Armenian population.
"We thank Senator Peters for his leadership and welcome the Senate's adoption of S.3000 as a first step toward holding Azerbaijan accountable for its genocide of Artsakh and deterring renewed aggression toward Armenia," said ANCA Executive Director Aram Hamparian. "For his part, President Biden – given his role in arming Azerbaijan's ethnic cleansing of Artsakh – needs to do far more at this point than simply signal a willingness to enforce an existing U.S. statute, for example, by leading a UN Security Council resolution to establish an international mandate providing security for the safe and sustainable return of Armenians to Artsakh."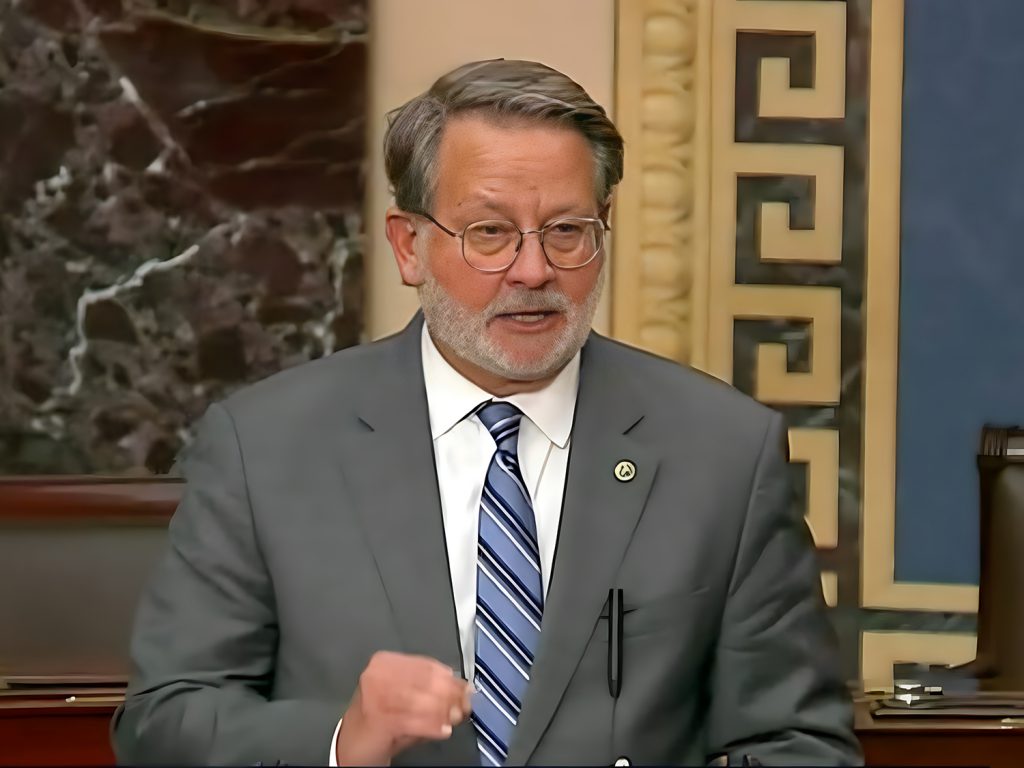 In remarks on the Senate Floor during consideration of the measure, Sen. Peters detailed Azerbaijan's aggression against Artsakh. "Not only did they blockade the Lachin Corridor for 10 months, creating significant hardships, they also violently attacked innocent Armenians and forced the dissolution of the government of Nagorno-Karabakh on September 20th."
Noting that President Biden failed to stop military aid to Azerbaijan in the face of their escalating aggression, Sen. Peters urged his Senate colleagues to act. "If we do not take action when countries willfully ignore the terms of our agreements with them, our agreements will become effectively meaningless and toothless," stated Senator Peters. "I urge my colleagues to join me in holding Azerbaijan accountable for their actions, enforce our agreements with them, and stand with the Armenian people in the face of unprovoked aggression."
Sen. Peters traveled to Armenia's southern Syunik region in September to assess the devastating impact of Azerbaijan's 10-month blockade of Artsakh. "This visit confirmed that we must do more to protect Armenian lives and prevent ethnic cleansing. Increased aid to the Armenian people is critical, and we must stop providing aid to Azerbaijan and impose targeted sanctions on the Aliyev regime," stated Sen. Peters.
Upon his return, Sen. Peters introduced S.Res.3000, which received bipartisan support from Senators Robert Casey (D-PA), Bill Cassidy (R-LA), John Kennedy (R-LA), Pete Ricketts (R-NE), Marco Rubio (R-FL), Jeanne Shaheen (D-NH), Chris Van Hollen (D-MD), and Sheldon Whitehouse (D-RI) in the run-up to its unanimous passage.
The ANCA is encouraging immediate passage of two measures in the U.S. House – H.R.5683 & H.R.5686 – which would block U.S. military aid to Azerbaijan by calling for the complete repeal of Presidential waiver authority of Section 907. The measures also urge expanded humanitarian and military assistance to Armenia to address Azerbaijan's ongoing aggression against Armenia and provide assistance to Artsakh's forcibly displaced Armenian population.
To contact your U.S. Representatives in support of these measures, visit anca.org/alert.
Video of the Senate passage of S.3000 is available here:
https://youtu.be/GY0EC5-bp7c