On May 20, thousands of people participated in a rally initiated by the "Volunteer Movement" NGO. The rally started in Kornidzor and was attended by citizens, politicians and public figures from different regions of Armenia and Yerevan.
The gathering started with the blessing of the clergy of Syunyats Diocese and the Lord's prayer.
The commander of the Sisakan regiment Ashot Mianasyan ("Ashot Iron"), ARF Nigol Aghbalian Youth Union Chairman Gor Sargsyan, boardmember of the "Unification" movement Avetik Chalabyan, ARF Bureau Political Representative Armen Rustamyan, and Chairman of the " Volunteer Movement" NGO Hrant Margaryan made speeches.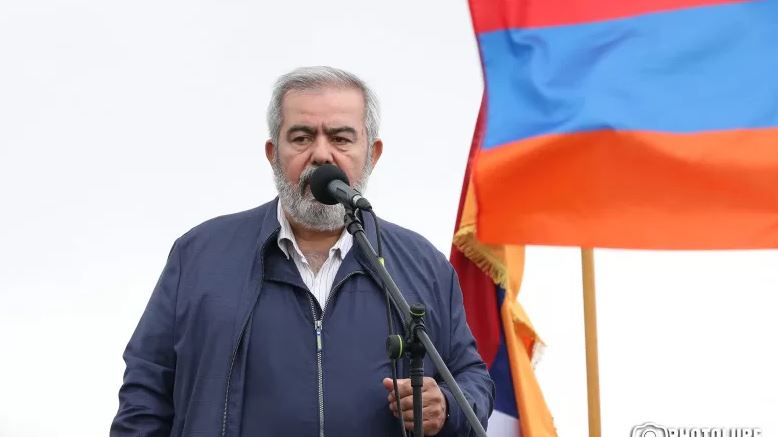 It should be noted that at the same time a march and rally took place in Artsakh in support of the Kornidzor rally. The people of Artsakh marched from the Stepanakert Military Pantheon to the Zarin Bagh area of ​​the highway connecting Artsakh to Mother Armenia.
At the end of the rally, a message addressed to Armenians and to the world was announced:
We, the participants of solidarity rally for Artsakh and the Armenians of Artsakh, announce that:
Armenia has enough potential to overcome the existing challenges and make a breakthrough.
The spirit of the Armenian resistance is unbreakable. Azerbaijan will pay a big price for any provocation and aggressive action.
Any action against the realization of Artsakh's right to freedom and self-determination will be met with opposition, no matter who commits it.
The development and implementation of a strategic plan aimed at ensuring the sovereignty of Artsakh and the security of the Armenians of Artsakh is the responsibility of the authorities of Armenia and Artsakh.
Any action of the Government of Armenia in questioning the results of the referendums held in Artsakh, the Constitution of the Republic of Armenia and the declaration of independence, which is an inseparable part of it, is void from the beginning.
We will prevent the adoption of a capitulation agreement that forces vital concessions in the name of peace. We will not tolerate any agreement without the direct participation of the people.
There can be a real and guaranteed peace if it is established on justice and truth. There cannot be peace as long as Hadrut and Shushi are occupied, as long as Artsakh is besieged and the right of the Armenians of Artsakh to live freely is threatened.
Our struggle is continuous. In case of necessity, we are ready to join the army and defend our homeland. There is no alternative to solving the urgent problems of defense and security by self-organization in the created situation.
As dignified and patriotic Armenians, we are determined and Artsakh is ours. We are all from Artsakh and have the will to liberate Artsakh from the blockade and restore its territorial integrity.
Artsakh was and will continue to be Armenian.
Long live Artsakh! Long live Armenia! Long live the Armenian people!