WASHINGTON, DC – Two dozen U.S. Senators and Representatives joined today on Capitol Hill, on the eve of April 24th, the international day of justice for the Armenian Genocide – to warn against Azerbaijan's ongoing attempts to ethnically cleanse the 120,000 Christian Armenians living in freedom upon their indigenous Artsakh homeland, reported the Armenian National Committee of America (ANCA).
"The message today from Capitol Hill to President Biden is, very simply: 'Prevent a second Armenian Genocide; stop sending American arms and aid to Azerbaijan,'" said ANCA Executive Director Aram Hamparian. "President Biden cannot credibility condemn the Armenian Genocide while arming and abetting the racist, oil-rich dictatorship hell-bent on completing this very crime."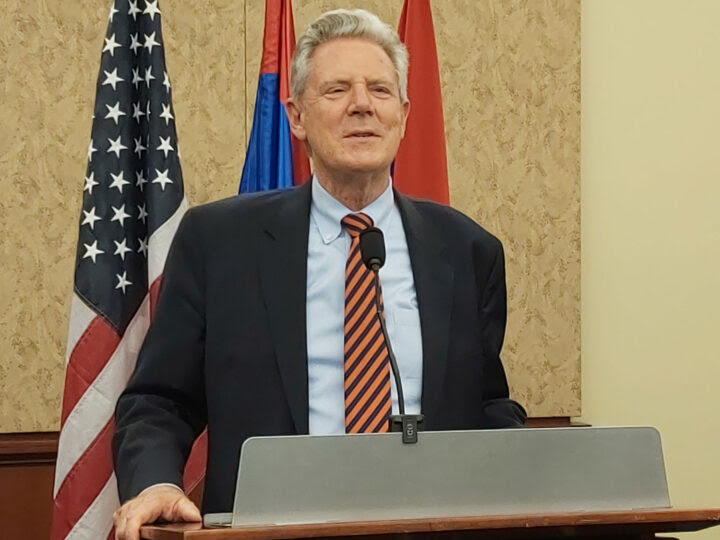 Congressional Armenian Caucus founding Co-Chair Frank Pallone (D-NJ) praised the Armenian American community's persistence in securing Congressional and then Presidential recognition of the Armenian Genocide in 2019 and 2021, respectively, but stressed that there is more work to do. "What we see happening in Artsakh, both with the attack, the aggression that took place a couple of years ago, and the cutting off of the Lachin Corridor, in my opinion, is nothing more a continuation of the genocide," stated Pallone. "We know the people in Artsakh are suffering, not having enough food, not having medical supplies. To me, that sounds like genocide, but we're not going to allow it to happen," concluded Rep. Pallone.
Speaker Emerita Nancy Pelosi (D-CA), citing her historic Congressional trip to Armenia last year, noted the significance of the Capitol Hill Armenian Genocide commemoration. "As we make clear by tonight's meeting, preventing a second Armenian Genocide, we must ensure that these atrocities never happen again." Speaker Emerita Pelosi continued, "There must be a negotiated, comprehensive, and lasting settlement to this conflict so that we can pave a way to peace and security. Make no mistake, support for the Armenian people transcends partisanship and politics."
Senate Foreign Relations Committee Chairman Robert Menendez (D-NJ), whose wife Nadine's grandfather was killed during the Armenian Genocide, discussed the "acute humanitarian crisis" in Artsakh resulting from Azerbaijan's blockade, their ongoing torture and murder of POWs, and aggression against Armenia and Artsakh. "Suffice it to say that I'm strongly opposed to having any aid go to a fighting force known for war crimes and aggression against a neighbor state. We should not be in bed with governments like Azerbaijan. It's inexcusable. It's morally repugnant. It's got to stop." He continued, noting that continued U.S. security assistance to Azerbaijan "not only damages American national security interests, it flies in the face of our duty to honor the victims and survivors of the Armenian Genocide, and our duty to ensure that history does not repeat itself again."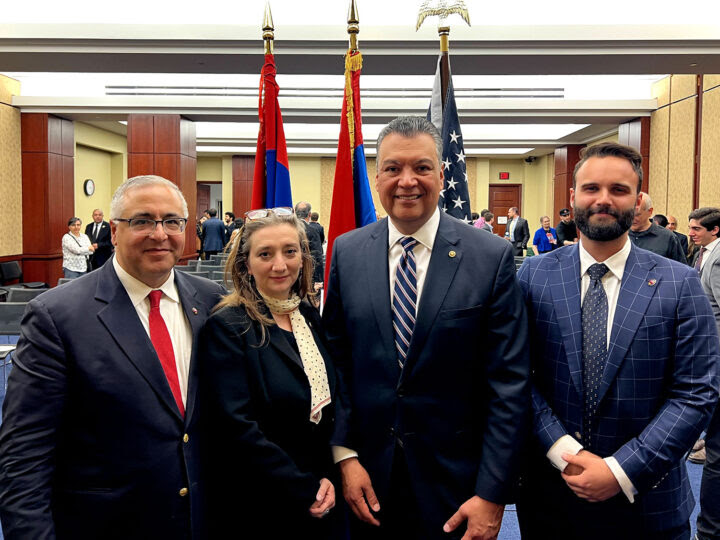 California Senator Alex Padilla (D-CA) announced his upcoming introduction of a Senate resolution condemning Azerbaijan's Artsakh blockade. "And after condemning Azerbaijan, I'm urging the United States government to take immediate steps to end the ongoing and growing humanitarian crisis. The U.S. government needs to live up to its word that we will never ignore the warning signs of genocide and we will never let this happen again. It is time to act," concluded Senator Padilla.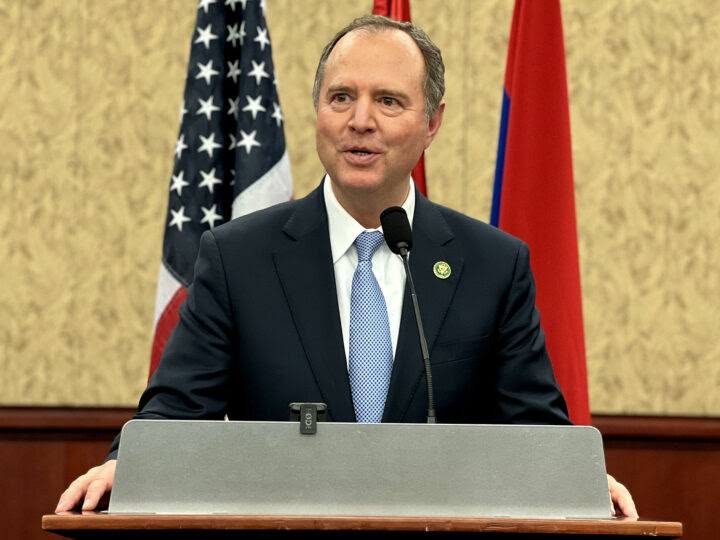 Rep. Adam Schiff (D-CA) concurred, noting, "Armenians are still under attack today, including those who lost their lives in Artsakh, many forced to flee from the unprovoked aggression of Azerbaijan and Turkey, Azerbaijan's unprovoked assault on the sovereign territory of Armenia, and the thousands of Armenians who remain at risk of another genocide as Azerbaijan tries to drive them out of Artsakh and Armenia." Rep. Schiff warned, "over the past few months we've reached a critical point in the hostility of Azerbaijan towards Armenia and Artsakh. And I can tell you I've never been more concerned than I am today that Azerbaijan may intend another all-out war on Armenia and Artsakh."
Rep. David Valadao (R-CA) reminisced about the powerful impact of his trip to Artsakh in 2017, noting, "And it was an interesting experience to go there [Artsakh] and see for myself these people that have fought for themselves, have defended their nation, and did everything they possibly could to be a free society. […] And it's something that I know across the aisle, both Democrat and Republican, we're going to continue to fight to work to resolve this as quickly as we possibly can."