LOS ANGELES, CA – On the evening of Tuesday, September 20, the Armenian Youth Federation Western United States held a protest in front of the CNN building in Los Angeles demanding accurate reporting by mainstream media regarding the continued Azerbaijani aggression and war crimes against Armenia. The demonstration was part of the AYF's "Seven Days of Action", aimed at raising awareness of Azerbaijan's aggression towards Armenia, demanding a halt of U.S. aid to Azerbaijan, and condemnation by the international community.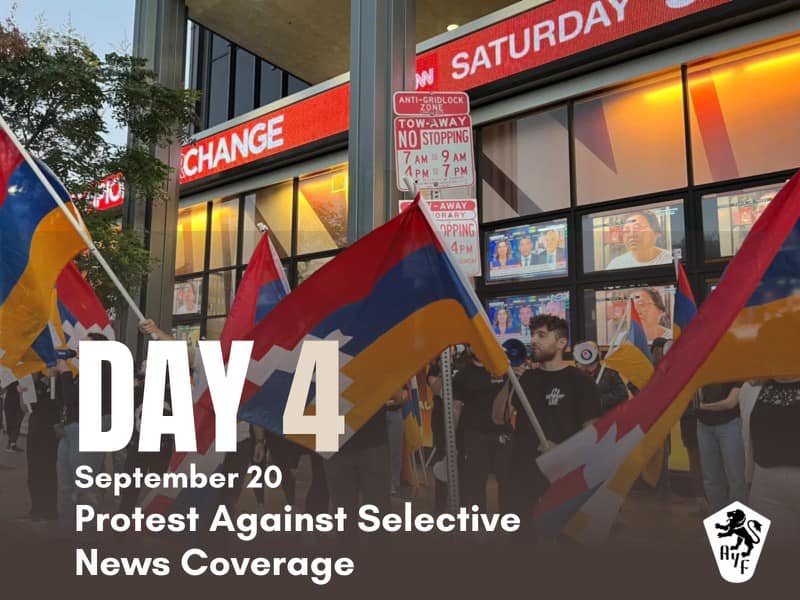 CNN and other media outlets have consistently avoided accurate and complete discussion of Azeri attacks on indigenous Armenian land. Azerbaijan has committed such atrocities as beheadings, murder, torture, rape, mutilation, and the intentional bombings of schools, hospitals and civilian infrastructure, yet the media has not reported on these atrocities.
Azerbaijani forces broke the indeterminate ceasefire with Armenia and Artsakh once again last week, shelling Goris, Jermuk, and Vayodz Dzor in Armenia in the early morning of September 13th. It was reported by the Armenian Ministry of Defense that high-caliber guns, artillery, and unmanned drones were employed.
There is a shaky cease-fire in effect at the moment.