In a recent quiet ceremony typical of the traditions of the Armenian Revolutionary Federation, five young men and women took their oath to serve the Armenian Nation through the ranks of the ARF in San Francisco, California.
Administering the Oath was Ung. Garbis Bezdjian a long-time member of the SF Krisdapor Gomideh and current Gomideh member, passing the torch to the young dynamic group from the generation that came before them who lay the foundation for the continuity of the organization, the community, and the Armenian Cause.
While in other parts of the world it is a more common occurrence to have native born (to that country) young men and women join the ranks of the ARF and other Armenian organizations, it is not so common an occurrence in the United States. In the latter, the great majority of the membership is comprised of foreign-born immigrants who have gravitated to these shores. Therefore, it is doubly important that all in this group of young men and women were born and raised in the United States, specifically in the San Francisco Bay Area community.
It is also important to note that all in the group of 5 are graduates of the Krouzian Zekarian Vasbouragan Armenian School, the only daily Armenian School in the Bay Area that serves students from Pre-K to 8th Grade. They are college educated, engaged in the community, and are passionate about Armenia and Artsakh. Four of the inductees' parents are active ARF members, the 5th traces his ARF lineage to Shushi Artsakh, where his grandfather fought the Tatars as an ARF Fedayee.
Meanwhile, in keeping with the very first line of the ARF Bylaws which reads, "ANY person of either sex, above the age of 18 of good moral character who accepts the ARF Bylaws, Manifesto, Modus Operandi and adheres to it rules, and works to fulfill its decisions may join the ranks of the ARF" and a practice that dates back to the very early days of the ARF, where other ethnicities and nationalities were afforded membership into the ranks, ten days later in "distant" Houston Texas, another inductee was sworn into the ranks by the area chair of the ARF Serop Aghpur Gomideh, and current ACF Chapter president Vrouir Frankian.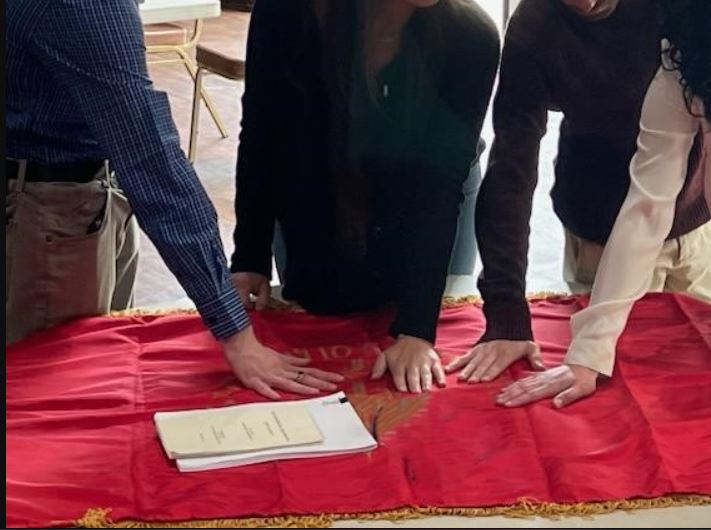 Again, in a quiet ceremony surrounded by active ARF members at their meeting, but this time inducting a person who is Armenian by marriage, by heart and soul, and now an ARF member having completed the same educational program as the above mentioned group of five, has taken the oath of service to the Armenian Nation, its cause, and the Houston Armenian Community.
The Armenian Revolutionary Federation Western United States Central Committee congratulates all its recent inductees into the ranks and stands shoulder to shoulder with all its ungers in pushing ahead for the Armenian Cause, Armenia's Statehood, and Artsakh's Freedom in pursuit of a Free, Independent, and United Armenia.