Fifteen soldiers were killed and three others seriously injured in what authorities said was a major fire that broke out at a military barracks in Armenia early on Thursday.
According to the Armenian Defense Ministry, the fire erupted overnight at the barracks of an engineer-sapper company in a military unit in Azat, a village in eastern Gegharkunik province, some 110 kilometers east of Yerevan.
Citing the "preliminary" findings of military investigators, Prime Minister Nikol Pashinian and Defense Minister Suren Papikian blamed it on a serious violation of fire-safety rules.
Pashinian said an officer of the unit used a large amount of gasoline to start a fire in a woodstove heating the barracks. He said the Armenian army's General Staff strictly banned the use of gasoline and other highly inflammable liquids for such purposes in a written order issued as recently as on December 21.
"Primitive compliance with this order would have prevented the accident," Pashinian added during a weekly session of his cabinet.
However, another junior military officer serving in Azat dismissed the official version of events, saying that no gasoline was kept inside the barracks.
"Even if it was, I wouldn't allow that given the bad things that could happen," he told journalists. "The investigation must be conducted to the end and all the guilty must strictly punished."
Papikian announced during the cabinet meeting that about a dozen senior officers have already been sacked over what was one of the deadliest non-combat accidents ever registered in Armenia's armed forces.
The sacked officers included Vahram Grigorian, the commander of the army's Second Corps stationed in Gegharkunik. Grigorian's three deputies and the chief of the Defense Ministry's fire-safety service were also fired.
Law-enforcement authorities did report any arrests as of Thursday afternoon. According to them, all 15 victims of the fire were army conscripts.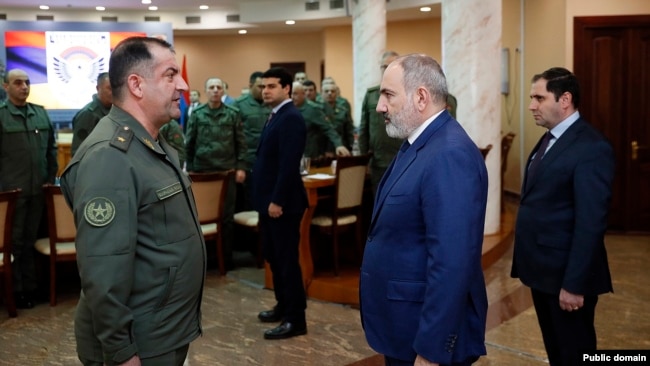 The victims and seven other soldiers stayed in an abandoned village house turned into a barracks. Pashinian acknowledged that their living conditions were challenging.
"But that doesn't matter," he said. "Fire-safety regulations must be observed in any place of residence."
The unusually deadly fire sparked uproar on social media. Well-known critics of Pashinian said it is the country's political leaders — and Papikian in particular — who are primarily responsible for the 15 deaths and must lose their jobs. Opposition leaders also blamed the government.
"Their entire team should have resigned long ago," said Seyran Ohanian, a former defense minister who now leads the parliamentary group of the main opposition Hayastan alliance.
"If I had been in this situation [as defense minister] I would have resigned right after the [2020 Armenian-Azerbaijani] war and I would have done the same today," Ohanian told reporters.
Hayk Mamijanian, another opposition lawmaker representing the Pativ Unem bloc, said that the ruling political team will try to dodge responsibility for the soldiers' deaths.
"Over the past year there have been some 15 cases where both Pashinian and his defense minister and entire gang of amateurs should have resigned," he said. "Have they borne responsibility for anything until now?"
Artur Hovannisian, a senior lawmaker from Pashinian's Civil Contract party, dismissed the resignation calls, saying that they will be "inappropriate" at least until the end of the criminal investigation into the accident.
"The political authority is responsible for every situation happening in the country," he said. "But it doesn't mean that we must try to immediately find scapegoats and blame everything on one person."
Source: Azatutyun.am