TO STRENGTHEN OUR LOVE" STATED THE PRELATE
On Sunday, April 9, 2023, on the Feast of Resurrection of our Lord Jesus Christ, H.G. Bishop Torkom Donoyan, Prelate, celebrated Divine Liturgy at St. Mary's Armenian Church in Glendale. In attendance were Ishkhan Saghatelyan, current Chairman of the Supreme Council of Armenia of the Armenian Revolutionary Federation and member of the National Assembly of the Republic of Armenia, accompanied by ARF Western U.S.A. Central Committee Members Laura Hakobyan and Levon Baronian, and representatives of community organizations, benefactors and the faithful.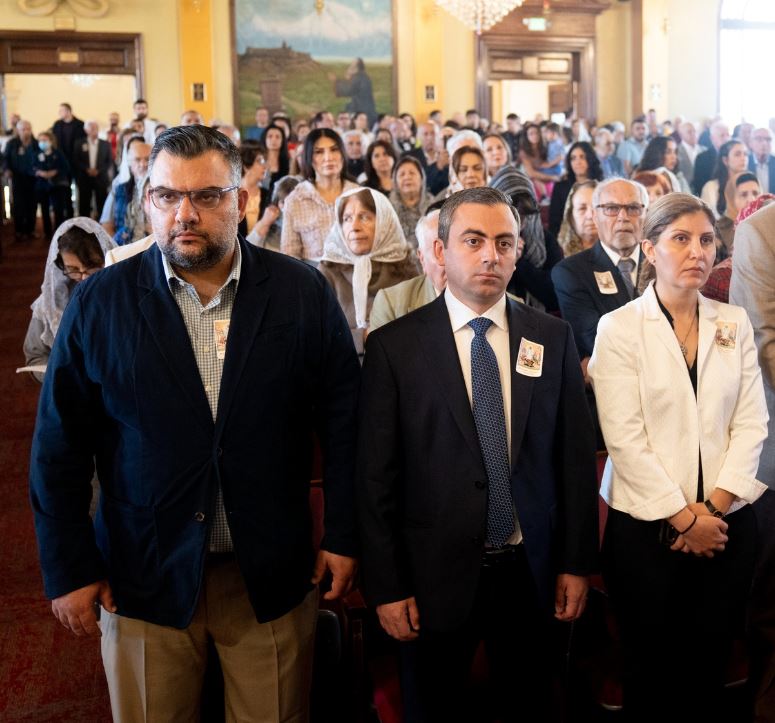 During his message, Bishop Donoyan stated; "It is the most powerful, moving, renewing and enlightening feast in the world, one of the greatest mysteries revealed in the lives of the faithful, a gift from heaven. This is the reason that heaven and earth, God's creatures, angels and human beings will receive a God-given strength in their souls. It is Jesus Christ, who came into our lives, performed miracles and became the most desired person in history. Today, every person who gazes at Jesus Christ will receive unconditional spiritual strength, illumination and health."
The Bishop invited more than a thousand attendees who filled the church to look towards heaven and receive blessings, so that hatred, enmity, rejection and non-acceptance is moved out of our lives and by the power of Jesus Christ, we are completely united as one.
He concluded his message by stating that the only begotten Son of God came into the world with a specific plan, to save mankind from the evil of the world and open the way to eternal life. And invited the faithful to stand and repeat the prayer he uttered; "With united faith and love, which is for the betterment of the individual, family, homeland and the entire Armenian people, for the safety of our soldiers protecting the borders of the homeland, and by the power of Jesus Christ, all kinds of visible and invisible enemies are defeated.
The Divine Liturgy concluded by the announcement which was heard from the Altar; "Christ is Risen, Blessed by the Resurrection of our Lord Jesus Christ."