Mayors Victor Gordo, Jon Primuth, and Edward Garcia Join The Armenian Communities of Pasadena, South Pasadena, and Sierra Madre in Remembering The 108th Anniversary of The Armenian Genocide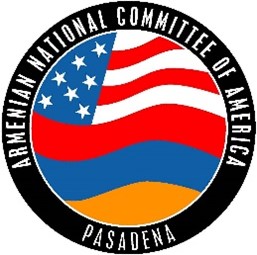 PASADENA, CA – Pasadena Mayor Victor Gordo issued a Proclamation on April 24th, 2023 standing in solidarity with the Armenian-American community, and condemning the genocide committed by the Turkish Government against the Armenian population of Western Armenia, reported the Armenian National Committee of America – Pasadena Chapter (ANCA Pasadena). With an overwhelming presence of members of the Pasadena Armenian community, ARF Pasadena (Lernavayr), AYF Pasadena, Executive Board Representative of the Armenian National Committee of America Raffi Hamparian, and the board members of the Armenian National Committee of America – Pasadena Chapter under the leadership of Chair Shoghig Yepremian. Mayor Gordo invited all who were in attendance at the Council Meeting to stand and give a moment of silence for those who perished in the Armenian Genocide, adding "Since memories fade with time it is important to remind ourselves about human tragedies that have taken place. Those who survived the genocide and their successors have had to work hard to make these tragic events known to the world, battling coverups, misinformation, and denial. As a community, it is appropriate for us to stand together and join our Armenian brothers and sisters in an effort to memorialize their fallen ancestors and to ensure this horrible act is not repeated. As we remember the past let us dedicate ourselves to building a great future as a testament to mankind's indomitable spirit." ANCA Pasadena Chapter Representative Nora Bogharian received the proclamation on behalf of the chapter, expressing her gratitude to the Mayor and City Council staff for their ongoing support for the remembrance and memorialization of the Armenian Genocide, and urging action be taken to prevent a second Armenian Genocide at the hands of Azerbaijan. "Genocide has not stopped for Armenians, and the erasure of our history, culture, heritage, and identity has not stopped, because Turkey today not only denies the genocide but is actively assisting Azerbaijan in its attempted extermination of the Armenians of Artsakh," remarked Bogharian. "We urge the Pasadena Council to join ANCA's efforts in supporting AJR1 – a resolution authored by State Assembly Member Chris Holden, and that has been passed with overwhelming support urging the United States to condemn the blockade of Artsakh, halt all military assistance to Azerbaijan, immediately send vital humanitarian aid to Artsakh." In response, Mayor Gordo vowed to take a stance once the resolution is introduced as a legislative policy. A candlelight vigil followed the City Council session, where all the attendees proceeded to walk to the Memorial Park to lay flowers, and candles, and say a prayer at the Armenian Genocide Memorial.
ANCA Pasadena Chapter was also invited to receive a resolution from The Pasadena Unified School District on March 23rd where PUSD vows to continue educating "every student and person, regardless of ethnicity or national origin should be made aware of and educated about the Armenian Genocide so that it and other state-sanctioned forms of ethnic cleansing may never happen". ANCA Pasadena Chapter Board member Christopher Kachadour was in attendance of the session and received a copy of the resolution on behalf of the community. ANCA Pasadena chapter also received Proclamations from the City or Sierra Madre on April 11th and the City of South Pasadena on April 19th where board members Emily Ekshian and Nora Bogharian addressed the cities Councils thanking them, and reaffirming the message of ANCA Pasadena that an active genocide is still being committed against Armenians of Artsakh while it is under a complete blockade, urging the City Councils to support AJR1 Resolution.
ANCA Pasadena Chair Shoghig Yepremian stated, "We look forward to continuing to work with Mayors Gordo, Primuth, and Garcia alongside other elected officials throughout Southern California, in urging the administration to end its military assistance to Azerbaijan, and provide much-needed humanitarian relief to the indigenous Armenians of Artsakh."

It is worth mentioning that a Declaration was issued by Mayor Gordo in December of 2022 in which he strongly condemned Azerbaijan's ongoing campaign of aggression against the Armenians of Artsakh, noting that the 2020 war was launched "with the intention of annihilating the Armenian people of Artsakh."
"As a country with democratic values that is devoted to freedom, these actions should be condemned. The words 'Never Again' were immortalized following the atrocities of the twentieth century, and these words should not be merely be spoken but shown in action," the Declaration read.

Additionally, Mayor Gordo added his signature to a powerful letter to President Biden issued by Glendale Mayor Ardy Kassakhian, which expressed profound disappointment at the Administration's failure to hold Azerbaijan to account for its flagrant human rights violations – including the continued provision of military assistance to the regime in Baku through the waiver of Section 907 of the FREEDOM Support Act. "In continuing to supply Azerbaijan with U.S. military assistance – amidst verifiable reports of war crimes and egregious human rights abuses – we reward Azerbaijan's aggression and risk emboldening and enabling this type of conduct," the letter read.

Since December 12th, the first day of Azerbaijan's Artsakh blockade, ANCA Pasadena has worked with the nationwide ANCA grassroots network to urge the White House, State Department, and Congressional leaders to stop U.S. military assistance to Azerbaijan and send emergency humanitarian assistance to Artsakh.  Thousands have used the ANCA online portal – anca.org/blockade – to call, tweet, and write the White House and Congressional leaders to address this enfolding Artsakh humanitarian crisis immediately.

Fifty U.S. Senators and Representatives have already condemned Azerbaijan's blockade, including Senate Foreign Relations Committee Chair Robert Menendez (D-NJ) and Senate Armed Services Committee Chair Jack Reed (D-RI).  See the full list at anca.org/blockade.

ANCA Pasadena advocates for the social, economic, cultural, and political rights of the city's Armenian American community and promotes increased civic participation at the grassroots and public policy levels.