Russian President Vladimir Putin hosted late on Thursday fresh talks between the leaders of Armenia and Azerbaijan which focused on the restoration of transport links between the two South Caucasus nations.
No final agreement to that effect was reported as a result of the trilateral meeting. Armenian Prime Minister Nikol Pashinyan's office said deputy prime ministers of the three countries will meet in Moscow next week to "continue work" on opening the Armenian-Azerbaijani border to commercial traffic.
Speaking at the start of the talks, Putin said outstanding differences between Baku and Yerevan on the issue are "purely technical" and "surmountable." He said the Russian, Armenian and Azerbaijani vice-premiers should iron out them.
"On the whole, in my opinion, despite all difficulties and problems, which still abound, the situation is developing towards a settlement," stated Putin. "One of these areas is work on transport communications."
Pashinyan and Azerbaijani President Ilham Aliyev openly argued about the matter during a Eurasian Economic Union summit held in Moscow earlier in the day.
Pashinyan objected to Aliyev's use of the term "Zangezur corridor" in reference to planned road and rail links between Azerbaijan and its Nakhichevan exclave that would pass through Armenia's Syunik province. He said it runs counter to the Russian-brokered ceasefire that stopped the 2020 war in Nagorno-Karabakh and amounts to Azerbaijani territorial claims to Armenia.
"The word 'corridor' does not constitute a claim to anybody's territory," countered Aliyev.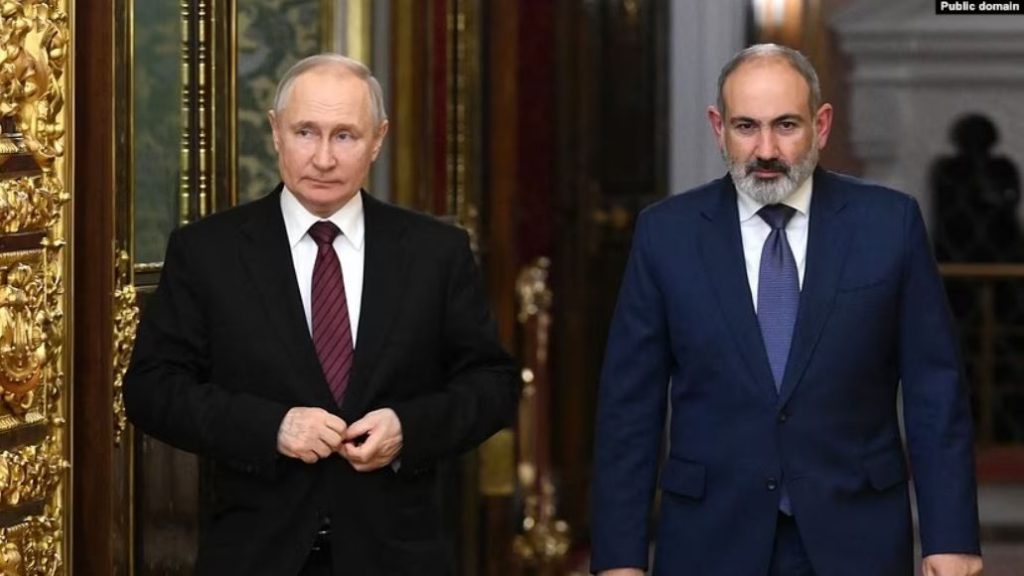 At a separate meeting with Pashinyan held shortly afterwards, Putin assured the Armenian leader that Baku unequivocally recognizes Armenian sovereignty over Syunik and that "any dual or triple interpretation of everything related to the possible unblocking of transport communication is baseless."
Pashintan reiterated, for his part, that Armenia is interested in conventional transport links with Azerbaijan.
"I want to reaffirm that both the border and services of Armenia are ready to ensure the normal transit of all vehicles and trains through Armenian territory," he said.
It was not clear whether the issue of an Armenian-Azerbaijani peace treaty was also on the agenda of the trilateral talks in Moscow. Yerevan and Baku reportedly made significant progress towards such a deal during a series of negotiations organized by the United States and the European Union earlier this month.
Aliyev told Putin during their separate meeting that Pashinyan's pledge to recognize Azerbaijani sovereignty over Karabakh through the treaty made things "much easier."
The Armenian and Azerbaijani leaders are scheduled to meet again in Moldova on June 1. They will be joined by EU chief Charles Michel, French President Emmanuel Macron and German Chancellor Olaf Scholz.
Source: Azatutyun.am