The Armenian government on Friday pointedly declined to clarify whether it is ready to explicitly recognize Azerbaijani sovereignty over Artsakh (Nagorno-Karabakh) as a result of ongoing peace talks with Baku.
In April 2022, Prime Minister Nikol Pashinyan signaled readiness to "lower the bar" on Karabakh's status acceptable to Armenia and also stopped asserting the Karabakh Armenians' right to self-determination in his public statements.
Pashinyan made clear last month that his administration unequivocally recognizes Azerbaijan's territorial integrity and is ready to sign an Armenian-Azerbaijani peace treaty that would commit the two South Caucasus states to recognizing each other's Soviet-era borders.
Azerbaijani President Ilham Aliyev demanded, meanwhile, that Armenia go farther and officially declare that "Karabakh is Azerbaijan."
Pashinyan said last week that Baku is now not ready to even grant Karabakh an autonomous status.
Responding to questions sent by RFE/RL's Armenian Service, Armenia's Foreign Ministry did not say whether this means Yerevan has already agreed to the restoration of Azerbaijani control over Karabakh. It said only that Yerevan continues to insist on "discussion between Baku and Stepanakert on the rights and security guarantees of Nagorno-Karabakh's population."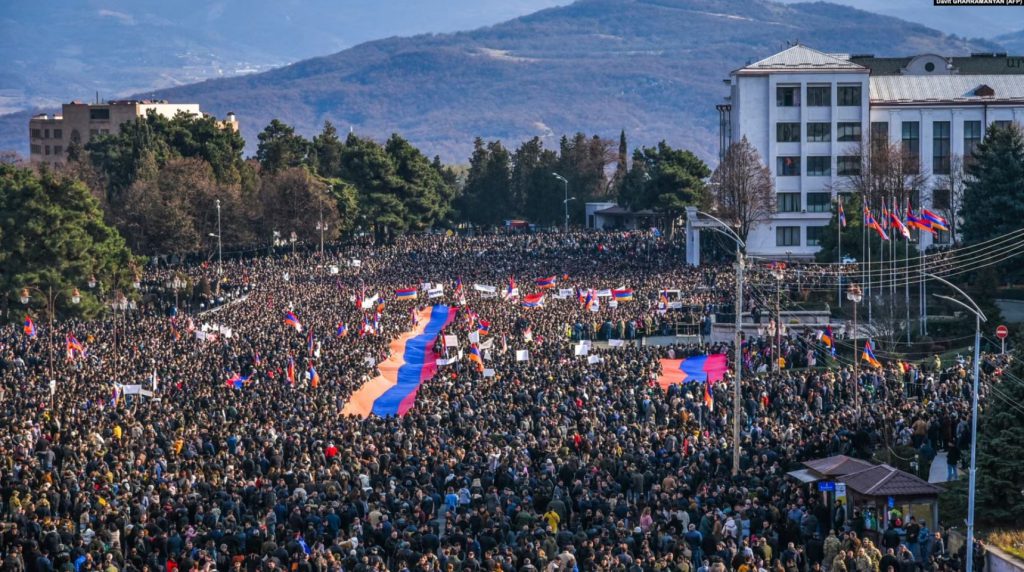 "Addressing the issues of the Nagorno-Karabakh people's rights and security is very important for establishing a lasting peace and stability in the region," the ministry said in a written reply. It did not specify whether Pashinyan's government believes this can be done under Azerbaijani rule.
Pashinyan has publicly encouraged Karabakh's leaders to negotiate with Azerbaijan while accusing Baku of planning to commit genocide in the Armenian-populated region.
The authorities in Stepanakert as well as the Armenian opposition have repeatedly denounced Pashinyan's public pronouncements on the conflict with Azerbaijan. In a joint statement issued on April 19, the five political groups represented in the Karabakh parliament again accused him of undermining the Karabakh Armenians' right to self-determination which was for decades supported by international mediators.
The Armenian and Azerbaijani foreign ministers made what the U.S. State Department described as "tangible progress" towards the bilateral peace deal during marathon talks held outside Washington last week. Aliyev and Pashinyan are expected to try to build on that progress when they meet in Brussels this Sunday.
Source: Azatutyun.am