On March 20, 2023, Her Excellency Soha Gendi, Minister of State for Emigration and Expatriates' Affairs of the Arab Republic of Egypt met with Armenian-American community and business leaders during a visit to the Crescenta Valley Meher and Satig Der Ohanessian Armenian Youth Center organized by the ARF Western USA Central Committee's Outreach Committee.  After the discussion, Oragark editorial staff interviewed Ambassador Gendi to discuss her visit to the United States and Egyptian-Armenian relations. The transcript of the interview is presented below. Complete coverage of the event will be forthcoming in Oragark.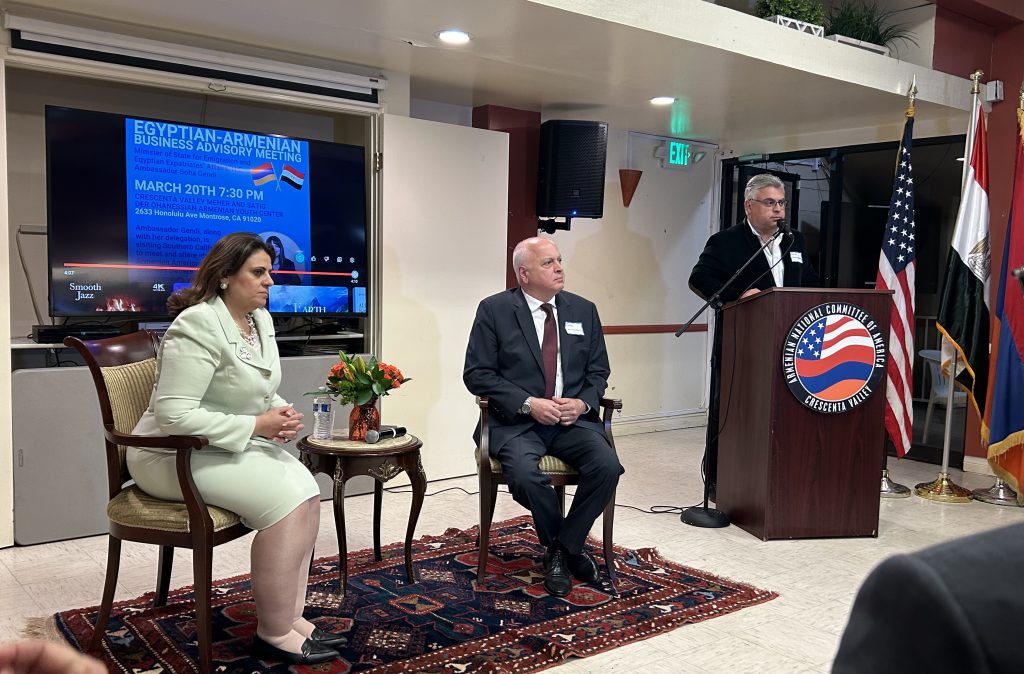 Oragark News (O.N.): Your Excellency, both Egypt and Armenia have had to deal with the challenges of demographic transformations over many years. As a result, both nations developed diasporas, and even shared diasporas, that require attention as they flourish in new environments. How do you see homeland-diaspora relationships from the vantage point of the Egyptian experience?
Ambassador Soha Gendi (A.G.): From the Egyptian experience, the diaspora has always been a soft power for Egypt with an important role. Diasporans are naturally working to adapt to new cultures and traditions and simultaneously, representing the best of Egypt and achieving the full phenomena of development and immigration. We always welcome our compatriots, and often after overcoming the challenges of emigration, Egyptians return home. They are our 'children' and we feel that it is important for Egypt to maintain connectivity with them. For example, Egyptian physicians who have gained expertise abroad often feel a need to return to Egypt and give back to their homeland. It is beautiful in that an Egyptian will leave as a student but return as an expert in their field. The connectivity with the diaspora is amazing and we continue to support it through incentives and social connections.
O.N: Our generation – which is the product of diasporan existence – is constantly challenged by the complexities of multi-identity/cultural living. From the Armenian-American experience, youth is a central focus and as you may note, all of our community centers – like the CV Youth Center where we are gathered tonight– are in fact called youth centers. Would you be willing to share with us what has been Egypt's strategic approach to mobilizing youth, Egyptian youth living abroad and at home, in Egypt's future?
A.G.: We believe that the youth are the future, whether they are living abroad as expatriates, or living at home in Egypt. They are a focal center in the whole process of developing Egypt. We connect the youth abroad by organizing tours to visit and staying connected to the future of Egypt. We have established the Ministry of Emigration Dialogue Center for Egyptians Studying Abroad (MEDCE) that serves to engage Egyptian youth studying abroad and provide opportunities for them to contribute to larger Egyptian national projects and technological innovations in their field of education and expertise. Egyptian youth can always be part of the dream in designing the future of Egypt. In addition, we host an annual international youth forum in Sharm El Sheikh, Egypt where we invite Egyptian youth to participate in discussions about both Egypt's as well as their dreams for the future. This is where they bring new ideas to the table all the time. The youth are part of our present and our future.
O.N.: President El-Sisi's leadership has been greatly appreciated by the Armenian community as you know, in 2019, at the Munich Security Conference, President El-Sisi commented specifically on the Armenian Genocide, which was widely reported in the Armenian media. And in January, he visited the Republic of Armenia for which there was great enthusiasm by Armenian communities everywhere. How do you see the Armenia-Egypt relations evolving and diversifying in the future?
A.G.: The Armenians have been part of our history and they are going to be part of our future. That is why I am here today in California. I met with the Egyptian community earlier today but knowing this historical relationship, I felt the need to also meet and pay tribute to the Armenian- Egyptian community here. If the Armenians were not important, then I would not be here tonight. The Armenian community should be a part of our future, of Egypt's future. It has been a great pleasure to meet with our friends from Armenia and we will continue this relationship. We believe that old friendships and old roots should be given new life in the future. And we look forward to further development of this partnership and exceed the historical ties.
O.N.: Your Excellency, Artsakh/Karabakh is on the mind of every Armenian here tonight. As you know, for one hundred days the people of Artsakh/Karabakh are blockaded by the Government of Azerbaijan. 120,000 people are on the brink of starvation and, so far, the international community has been unable to pressure the Azerbaijani government to lift the blockade. It is our earnest hope that Egypt will do its utmost to get this tragedy brought to an honorable end and we look to Egypt and the international community to have this blockade lifted.
A.G.: We have a long history of partnership and friendship with the Armenians. The Armenians have always been part of our society and community. We have long-standing relations with the Azerbaijanis as well. We know that we can play a role in the future and we know that we can do more with these relationships. We feel that this conflict has gone on for so long and consumed so many lives. It is affecting the lives of both nations and it should stop for the sake of both nations and the youth of both nations. This conflict has been going on for too long. We are very much ready to support the dialogue and assist in inserting sense and logic into this process. We pray for an end to this conflict. We will always be here for both nations.