Longtime ANCA Leader, Sherman Oaks Neighborhood Council Member, NASA-Award-Winning Engineer, and father of three, Levon Baronian launches grassroots campaign dedicated to safe streets, healthy neighborhoods., and real community empowerment.
LOS ANGELES, CA – Levon "Lev" Baronian officially launched his campaign today for Los Angeles City Council, District 4. Born in Hollywood's "Little Armenia" neighborhood, Baronian is a lifelong Angeleno with working-class roots. Baronian is a Sherman Oaks Neighborhood Council Member, an award-winning engineer, and a volunteer youth coach with a long track record of public service.
Baronian is seeking to unseat the incumbent, Nithya Raman, who was elected when District 4 of the city of Los Angeles had almost entirely different boundaries.
At the time Raman was elected, District 4 was primarily a West Los Angeles district, including only small portions of the San Fernando Valley, including Sherman Oaks, where Baronian has resided with his family for 16 years.
After Raman was elected, the city underwent re-districting and District 4 now has practically no overlap with West Los Angeles, and instead includes neighborhoods in Sherman Oaks, Encino, Reseda, Studio City, Valley Village, Los Feliz, Griffith Park, Mount Olympus, Hollywood Hills and parts of Hollywood.
In announcing his candidacy, Baronian focused on the widespread dissatisfaction with current leadership and the downward trajectory Los Angeles is experiencing with rising crime and deteriorating public safety.
"Our streets have become increasingly dirty, petty crime is spreading like wildfire, and the entire system is mired in inefficiency. It's disheartening to see that the officials entrusted with addressing these pressing issues have made little headway in recent years. In fact, it appears that things are spiraling further downward. Los Angeles deserves better and that's why I've decided to announce my candidacy for City Council," stated Baronian.
While earning a degree in computer science at Cal State Northridge's College of Engineering and Computer Science, Baronian was only 18 years old when he was recruited to work for NASA's Jet Propulsion Laboratory. Subsequently, he earned two NASA awards and worked as a software engineer on projects for Cal Tech, Sempra Energy, MySpace, Western Asset Management, and Babcock Power. Baronian's campaign says that his engineering background has equipped him with the real-world analytical skills career politicians lack in tackling the challenges faced by Angelenos.
"Throughout my life, I've thrived on solving complex problems. Every day, I've dedicated myself to finding innovative solutions that benefit ordinary citizens – everyday hardworking folks and their families – people like you and people like me. What Los Angeles needs now isn't just new approaches; it demands individuals ready to roll up their sleeves, listen to the people and put in the hard work necessary to confront the issues that have eroded our quality of life in our neighborhoods," emphasized Baronian.
Baronian is married and has three children. As a youth coach, he has collaborated for many years with the City of Los Angeles, Los Angeles Unified School District, and the State of California to secure facilities and funding for neighborhood youth programs. Baronian's volunteer work in the community has been recognized by the Los Angeles City Council, California State Senate, and the United States Congress.
The Homenetmen Athletic and Scouting Union's Western Region recently recognized Levon Baronian as a "Most Serving" member.
Baronian has also been a long-time member and leader of the Armenian National Committee of America, having served as Chairperson of the ANCA San Fernando Valley East Chapter for many years, and ANCA Western Region Boardmember.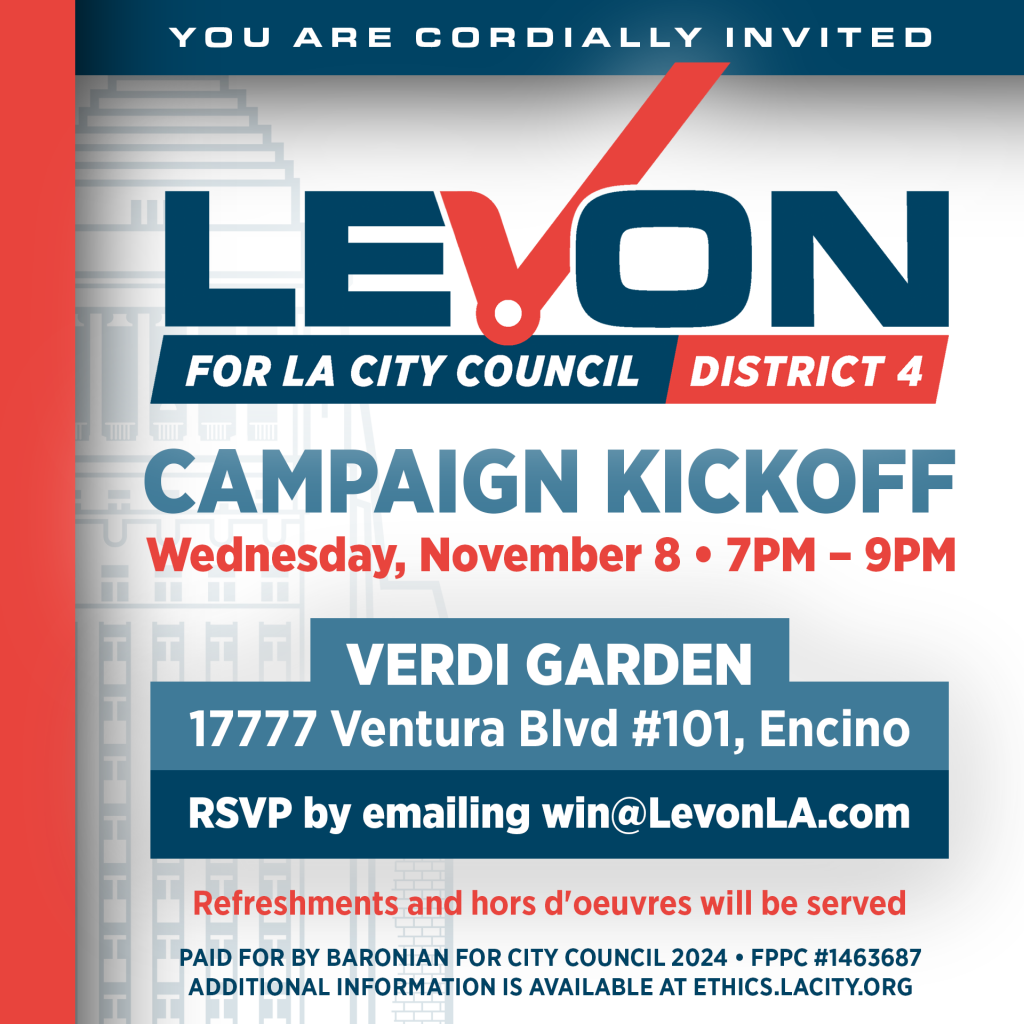 As part of his campaign roll-out, Baronian is inviting the public to join him at his official campaign kickoff on Wednesday, November 8 from 7:00 p.m. – 9:00 p.m at Verdi Garden in Encino.
Baronian's campaign has launched LevonLA.com to help voters learn more about Baronian's accomplishments and join his campaign.