WASHINGTON, DC – Under intense grilling today by the U.S. Senate Foreign Relations Committee, a mid-level Biden-Harris Administration aide repeatedly dodged direct questions about the State Department's failure to break Azerbaijan's genocidal blockade of Artsakh – even refusing, on national security grounds, to answer Chairman Robert Menendez's (D-NJ) straightforward query about Azerbaijani President Ilham Aliyev's motives for starving 120,000 indigenous Christian Armenians, reported the Armenian National Committee of America (ANCA).
Today's hearing, titled "Assessing the Crisis in Nagorno-Karabakh," was chaired by Sen. Menendez (D-NJ) and featured testimony by Acting Assistant Secretary for Europe and Eurasia Yuri Kim. The chair led members of the Committee in direct, often confrontational questioning of the State Department refusal to hold Azerbaijan accountable or to provide urgently needed humanitarian aid to Artsakh.
"The signature moment – the defining exchange – of today's Senate Foreign Relations Committee Artsakh hearing was Acting Assistant Secretary Yuri Kim hiding behind a transparently slippery appeal to state secrets to avoid answering a straightforward question about Aliyev's obvious motives for blockading Artsakh," stated ANCA Executive Director Aram Hamparian. "The Armenian American community joins Chairman Menendez in demanding answers about the State Department's refusal to forcefully confront Azerbaijan's genocidal ethnic cleansing of Artsakh."
Chairman Menendez was emphatic about the urgency of the situation in Artsakh, stating, "as we sit here today with the lives of so many people hanging in the balance, time is of the essence. The former prosecutor at the International Criminal Court, Luis Moreno Ocampo, recently wrote, 'Starvation is the invisible genocide weapon. Without immediate dramatic change, this group of Armenians will be destroyed in a few weeks.' That is how long we have. I would ask our witness to speak to what the [State] Department is doing, what the Biden Administration is doing, and what the international community must do to avert this atrocity from being carried out before our own eyes."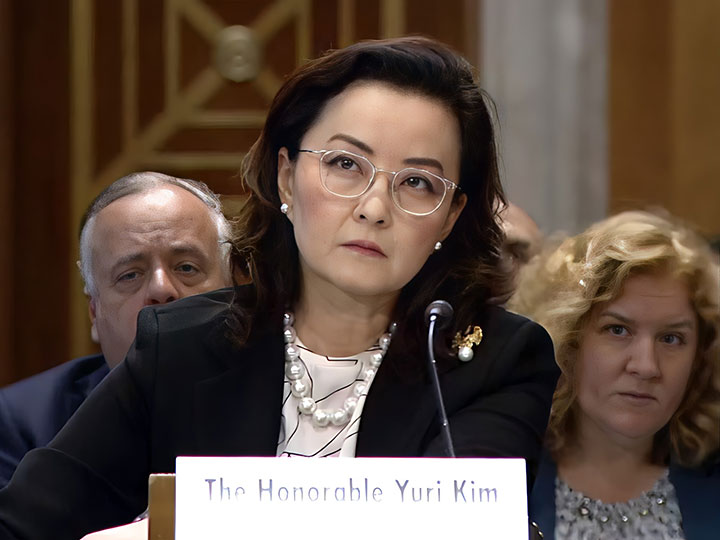 Acting Assistant Secretary Kim held to standard State Department refrains regarding the deteriorating situation in Artsakh. "I want to be clear that we view the status quo as completely unacceptable," stated Acting Assistant Secretary Kim, who went on to urge the immediate opening of the Lachin corridor while also supporting Azerbaijan's calls for the opening of additional routes that could undermine Artsakh's security.