SAN FRANCISCO, CA, March 11, 2023 – The Armenian National Committee of America San Francisco Bay Area Chapter (ANCA-SF) hosted the 2023 Hye Tad Evening at the Khachaturian Armenian Community Center, Saroyan Hall, saluting growing local civic engagement and empowerment to advance community priorities in Artsakh, Armenia, and the Bay Area.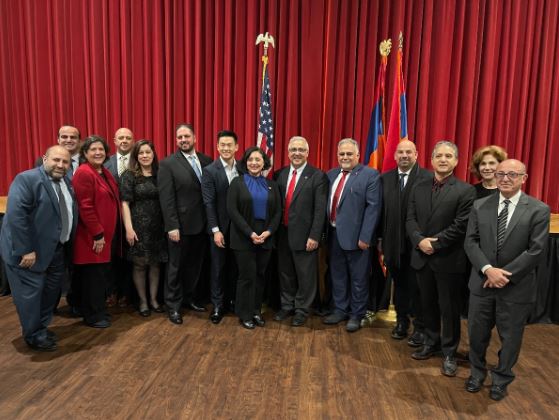 The evening's keynote speaker was ANCA Executive Director Aram Hamparian and special guests included California state Assemblymember Evan Low and San Francisco Supervisor Myrna Melgar. Sgt. Tigran Antonian and Lt. Feliks Gasanyan of the San Francisco Police Department were honored as "Local Heroes."
Chairperson Matt Senekeremian led the evening with a report on the Bay Area ANCA's activities and achievements over the past four years, spotlighting the political and media response to local anti-Armenian hate crimes, including the devastating arson attack that destroyed San Francisco's Armenian Cultural Center. Senekeremian went on to share the ANCA-SF's local, state, and federal level advocacy efforts during and after Azerbaijan and Turkey's 2020 war against Artsakh and Armenia, and the ongoing campaign to secure concrete action in the face of Azerbaijan's Artsakh blockade, now in it's fourth month.
"After a hiatus due to the pandemic and the other crises our community is experiencing, it is empowering to have the community gather again in support of the ANCA San Francisco Bay Area Chapter," stated Senekeremian. "Tonight, we recommit ourselves to continue to pursue the Armenian cause and hear about all the work of the ANCA locally and nationally from ANCA Executive Director Aram Hamparian, and to personally meet two advocates fighting for the Bay Area Armenian community's needs, Supervisor Myrna Melgar and Assemblymember Evan Low."
San Francisco Supervisor Myrna Melgar, who represents District 7, which includes the Krouzian Zekarian Vasbouragan (KZV) Armenian School, spoke about San Francisco's proud history of being a safehaven for immigrant communities escaping persecution and violence and the importance of embracing one another. "Places are important because they are important to people," stated Supervisor Melgar. "And in District 7, the Mt. Davidson Cross, the Khachaturian Armenian Community Center, the KZV School are important to the community. As long as I am in office, I will make sure the city responds to the community so that this community can be strong." Supervisor Melgar has been at the forefront of local pro-Artsakh advocacy, taking a lead role in the recent San Francisco Board of Supervisors resolution condemning Azerbaijan's ongoing blockade of Artsakh.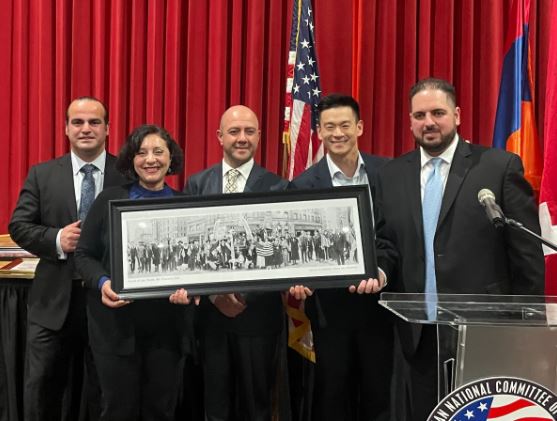 California State Assemblymember Evan Low spoke about his commitment to representing the views and values of his Silicon Valley constituency – including St. Andrew Armenian Church – and the importance of speaking truth to power. Referencing his California State Assembly Armenian Caucus trip to Armenia in 2018 and his vote to divest the California Public Employees' Retirement System (Calpers) from Turkey, Assemblymember Low showed attendees the "threatening" correspondence he received from the Consul General of Turkey in response, and tore the letters in protest. "We must speak out," said Assemblymember Low. "I know that politics is nasty and we don't like it, but we have to know who our elected representatives are." He went on to praise the work of the ANCA San Francisco Bay Area Chapter and encouraged broader support to ensure they have the resources to combat disinformation and foreign pressure. "Can you give more to ANCA and continue the commitment to advance their incredible work that is so important?" stated Assemblymember Low. "Let's take this opportunity to help strengthen the San Francisco Bay Area Chapter and help ensure our leaders in Washington DC know that California stands strong with the Armenian community."
Hye Tad evening attendees paid special tribute to "Local Heroes" Sgt. Tigran Antonian and Lt. Feliks Gasanyan of the San Francisco Police Department, who played a key role in helping the community in the aftermath of anti-Armenian hate crimes, navigating stakeholders through the complexities of the investigation, as well as leading weekly meetings, serving as liaison with the FBI, and assisting with various security grants. Speaking on behalf of both of them, Sgt. Antonian said they considered it their duty to do whatever they could in their capacity as policemen to lend their support to the community.
In keynote remarks, ANCA Executive Director Aram Hamparian praised Bay Area ANCA advocates and supporters for being "present in the life of our people – not just as consumers of Armenian culture, but producers of Armenian identity; not just in the wagon enjoying the ride, but out front – charting our path – shoulder to the wheel; authors of Armenia's future."
Hamparian decried those who misguidedly accept terms of surrender under the guise of diplomacy. "If 'land for peace' worked," stated Hamparian, "the loss of Western Armenia, Nakhichevan, three-quarters of Artsakh, and now sovereign Armenian soil would surely have met this test and delivered peace for our time – for all time. But it hasn't, because each loss – each surrender – has only encouraged our enemies to press for more."
Turning to the ANCA's efforts in Washington, Hamparian explained that "we are facing the fundamental fact that U.S. policymakers – all their talk aside – are losing no sleep over our loss of Artsakh." He noted: "We see [U.S. bias] – most fundamentally – in America's artificial parity, which is, in actuality, a pro-Azerbaijani policy. Sadly, this is nothing new to us. In many ways it mirrors our Armenian Genocide struggle: Outright hostility by U.S. policymakers disguised as neutrality – pro-Turkish apologists and Caspian oil profiteers parading around as honest broker."
Hamparian stressed: "It took far too long, but we finally put America on the right side of the Armenian Genocide. We must now do the same on Artsakh."

During his visit to the San Francisco-Bay Area, Hamparian visited with KZV Armenian School middle school students, where he encouraged them to advocate for Armenian American priorities with "confidence and courage, passion and persistence." Hamparian told students, "we are hosts, not guests in this house; owners, not tenants, of America. Fully American. Fully Armenian. And we follow our own moral compass." Hamparian expressed appreciation to KZV principal Grace Andonian and the teaching staff for welcoming the ANCA into their classrooms both in-person and via ZOOM to expand student engagement in Hye Tad priorities.
Hamparian also met with the Hindu American Foundation co-founder Mihir Meghani and with San Francisco Board of Supervisors President Aaron Peskin.