LOS ANGELES, California – The Armenian National Committee of America's Hollywood, Sunland-Tujunga, and San Fernando Valley chapters have endorsed Rick Caruso in the Los Angeles Mayoral race.
"After a deliberation process between the various ANCA local chapters which cover various parts of the City of Los Angeles electoral territory, we are proud to announce our endorsement of Rick Caruso for Los Angeles City Mayor," said Lara Yeretsian, chair of the ANCA Hollywood chapter. "Throughout his campaign, Rick Caruso has consistently demonstrated his commitment to engaging with the Armenian-American community on a range of issues – from empowering our local communities, to supporting Armenia's security and Artsakh's right to self-determination," Yeretsian continued.
Amidst Azerbaijan's recent assault on Armenia and its ongoing aggression against the Armenians of Artsakh, it is now more important than ever to ensure those in elected office will be steadfast vocal allies of the Armenian-American community.
For Armenian-Americans, the Armenian genocide is a lived reality – it is the reason many of our families moved to the United States – and the genocidal threat continues to be felt by our communities in Armenia and Artsakh today. In these dire times, it is imperative our local leaders be a vocal advocate for the Armenian-American community – to not only stand in solidarity with our at-risk communities abroad, but to also take seriously the uptick in anti-Armenian hate crimes in our communities here in the U.S.
The City of Los Angeles is home to the largest Armenian-American community in the United States, with the Greater Los Angeles Metropolitan Area holding the single largest population of Armenians outside of Armenia itself. For over a century, the city has been a place of refuge for Armenians fleeing persecution – from the Armenian Genocide to the Lebanese Civil War, Iranian Revolution, and more recently the Syrian Civil War.
"The Armenian-American community has left an indelible impact on the cultural, social and political fabric of Los Angeles for decades," remarked Dr. Alice Chalian, chair of the ANCA Crescenta Valley & Sunland-Tujunga chapter. "We look forward to working with Rick Caruso, who has recognized the significant contributions the Armenian community has made to the City of Los Angeles, and who has vowed to amplify our collective voice during his tenure as Mayor."
As a hub of Armenian community life, Los Angeles is also home to dozens of institutions that serve the Armenian community and beyond – from Armenian day-schools, to social service centers, youth associations, and cultural organizations. Armenians have also made an important impact on the economic foundations of Los Angeles, with the community known for its strong entrepreneurial business spirit.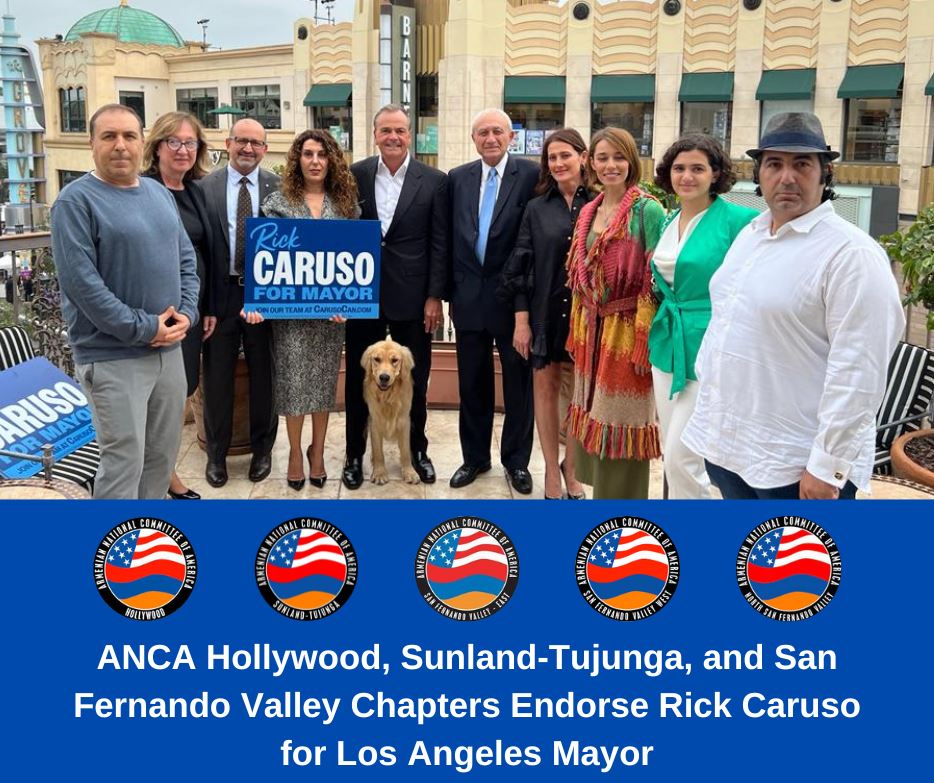 "Armenians always give back to the communities they're part of – whether it be through our vibrant community organizations, or through the many Armenian-owned businesses across the city," remarked Dr. Avo Babian from the ANCA San Fernando Valley East chapter. "Armenians throughout Los Angeles resonate with Rick Caruso's experience as a business leader, and are confident he is best suited to represent the interests of our community as Mayor of Los Angeles – particularly when it comes to supporting the growth and development of our community's institutions."
"I'm honored to receive the endorsement of the Los Angeles-based chapters of the Armenian National Committee of America," remarked Rick Caruso. "The Armenian community is family to me, and I am committed to being your voice at city hall," Caruso continued.
"I've listened to the community's concerns, and am ready to work to be an advocate for the issues that are important to Armenian-Americans. From addressing the disturbing uptick in anti-Armenian hate crimes in our backyard – to ensuring greater representation and inclusivity of Armenian voices at the city level. I am also committed to ensuring our city is safe for everyone to live in – starting with tackling the homelessness crisis in our communities.
I will work to ensure Armenian schools and community organizations get the support that they need, and to make sure our city is one that allows Armenian entrepreneurs and small-business owners to thrive.
And as Mayor, I will also be an advocate for the Armenian people not just locally, but on the national and international stage. From combating Armenian genocide denial through supporting efforts to promote genocide education in schools – to enhancing our city's relationship with Armenia and Artsakh, particularly amidst Azerbaijan and Turkey's enduring aggression."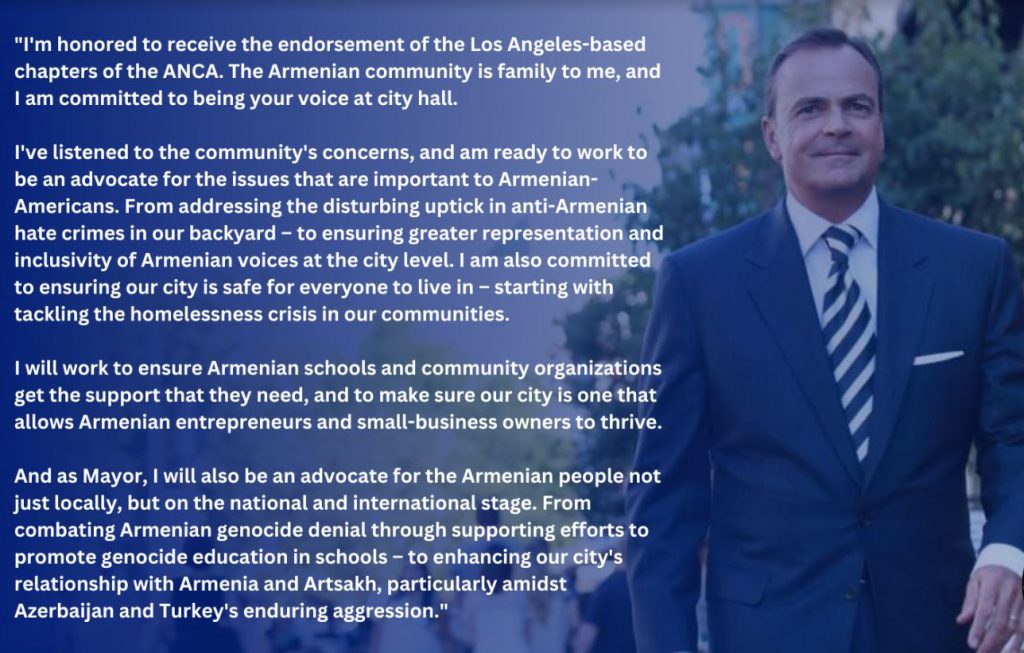 The Los Angeles City Mayoral Election will take place November 8th, 2022. The last day to register to vote for the November 8, 2022 General Election is October 24, 2022. All registered voters should have received vote-by-mail ballots. Mail-in ballots must be postmarked on or before election day, and received by November 15th. They can also be dropped off in-person at a secure ballot drop box, or to any in-person voting location on November 8th.