"If Saghatelyan and Vanetsyan were representatives of the "former" regimes, why then did Pashinyan himself appoint the two to such high level positions immediately after coming to power?"
By Levon Baronian
When the opposition-led protests demanding Pashinyan's resignation first started gathering steam in late April after Pashinyan made damning revelations that his government was preparing to "lower the bar" on the status of Artsakh and that the latest Artsakh war, in which 5,000 Armenian soldiers lost their lives, was avoidable, pro-Pashinyan politicians, pundits, and media simply tried to ignore the movement. In what appeared to be a coordinated response, or lack thereof, media outlets in Armenia and the Diaspora, such as the pro-Pashinyan outlet "Asbarez" provided zero coverage.
After about a week though, when the number of protestors quickly grew to several thousand, they could no longer just pretend that nothing was going on, so they moved on to another tactic to suppress the movement. They kept repeating that the protests lacked widespread support and would fizzle away in a few days.
Much to Pashinyan's and his supporters' displeasure, the protests did not fizzle away. Instead, the movement to oust him began to draw tens of thousands of protestors daily. And so, Pashinyan's manipulation machine defaulted to its familiar narrative, one that tried to paint the protests as merely an attempt by the "former" presidents Kocharyan and Sargsyan to come back to power, hoping that it would end in failure.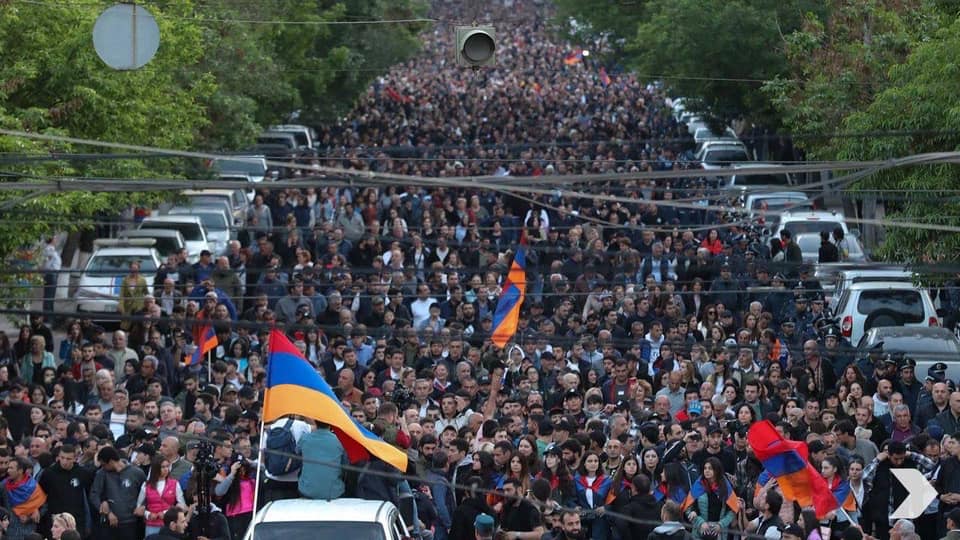 This manipulative tactic had some success, despite the fact that the protests' primary leaders were Ishkhan Saghatelyan and Artur Vanetsyan, neither of whom were part of the previous Kocharyan and Sargsyan governments. Saghatelyan, the chairman of the ARF Supreme Body of Armenia and Vanetsyan, the leader of the Hairenik party only rose to political prominence during Pashinyan's regime. In fact, both had been appointed to high level posts in Armenia's government by Pashinyan after the April 2018 coup that brought him to power. Saghatelyan was named Governor of Gegharqunik, Armenia's largest province, and Vanetsyan was appointed as Director of the National Security Service of Armenia. The two and their respective parties soon parted ways with Pashinyan's government, as its anti-national policies and positions became increasingly obvious.
Pashinyan's propaganda machine hoped that the masses would not remember these inconvenient facts.  If Saghatelyan and Vanetsyan were representatives of the "former" regimes, why then did Pashinyan himself appoint the two to such high level positions immediately after coming to power?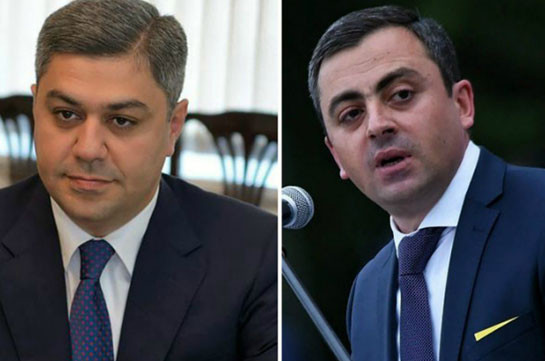 Instead, Pashinyan supporters desperately attempted to draw attention to the fact that Kocharyan and Sargsyan both participated in the anti-government rallies, along with several of their family members, most notably Kocharyan's son Levon. They tried to downplay the fact that Kocharyan and Sargsyan were merely participants and not the driving force behind this movement. A common theme across social media site posts and comments by pro-Pashinyan accounts, many strongly resembling fake profiles, tried to dismiss the movement as just an "atori kriv", literally translated as "fight for chairs". They charged that the movement was just politically motivated and not about the fact that Pashinyan was preparing to capitulate once again to Azerbaijan's and Turkey's demands.
At the same time, other outlets, primarily those aligned with the West, started trying to paint the protests as merely a Putin backed ploy to force Pashinyan into alignment with Russia. In what has become a new manipulation tactic by the same outlets and forces that once fervently supported Pashinyan, Western-leaning Russophobe commentators and pundits have started to promote a conspiracy theory that Pashinyan and the opposition are both merely puppets of Putin. Pushing this narrative, they again hope that the public would ignore the inconvenient fact that Putin needs no assistance in forcing Pashinyan's alignment, as Pashinyan has become Putin's doormat in recent years and just recently signed agreements escalating Armenia's dependence on Moscow to levels perhaps not seen since the demise of the Soviet Union.
Another tactic deployed by the Pashinyan propaganda machine is to claim that since there aren't hundreds of thousands of protestors on the streets demanding Pashinyan's resignation, then the movement to oust him does not enjoy the support of the majority of Armenia's citizens. Here too, Pashinyan's propagandists hope that the masses will be duped. Despite the fact that Armenian police have used brutal violence and detained hundreds of demonstrators daily in an attempt to suppress the movement, and the weather in Armenia has been dismal over the last few weeks, the number of daily protestors has swelled to tens of thousands consistently. It is easy to imagine that had the police not been used to intimidate the masses and the weather been more favorable, the number of demonstrators could have easily swelled to even more than the tens of thousands that have hit the streets daily, despite the threats of arrests and drenching showers.
In fact, it was recently reported that Armenia's police have informed Pashinyan that they are at maximum capacity and are struggling with an increasing number of apolitical citizens on the streets. The police warned Pashinyan that the situation could become untenable at any given moment.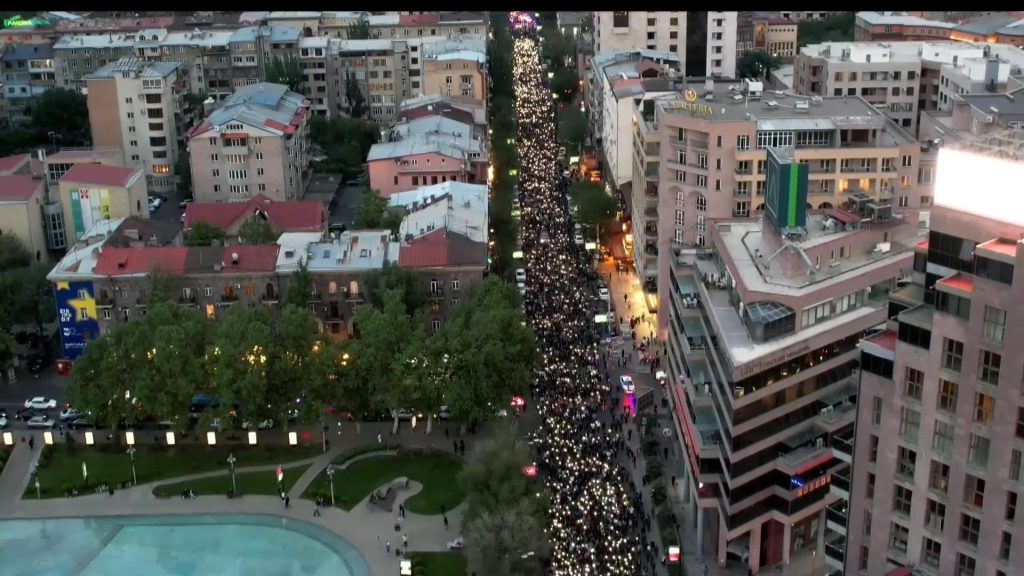 Finally, the last week has seen an increasing number of protests and demonstrations in Diasporan Armenian communities demanding Pashinyan's resignation. There has been a notable turnout of anti-Pashinyan demonstrators, even in places like Glendale, where Pashinyan and his lackeys had invested heavily to divide and destroy the traditional Armenian institutions.
Last week, large crowds marched twice through the streets of Glendale demanding Pashinyan's resignation. The latest on Sunday included demonstrators calling Zareh Sinanyan, Armenia's Diaspora Commissioner and former Mayor of Glendale, a traitor for his recent anti-Diaspora and anti-ARF remarks.
In what is the oldest of tactics deployed by anti-national forces, and one that Pashinyan himself has apparently abandoned, Sinanyan tried to stoke anti-ARF sentiments by claiming that the ARF is the only power behind the anti-Pashinyan movement in the DIaspora and lacks public support. In response, a large crowd of demonstrators, comprised of various segments of Armenian-Americans, gathered and chanted "Sinanyan traitor" in front of the Americana complex in Glendale.
Pashinyan's few remaining supporters, comprised mostly of those who have personal interests in his staying in power, have become desperate in their attempts to downplay and suppress the legitimate grievances of the growing movement in Armenia. Time is running out, however, for Pashinyan and his pro-Turkish government. There is no turning back and the people will not be fooled once again.